Ladies Only CARDIO KICKBOXING!
Every Tuesday and Thursday at 12:15 pm.
Message thunderkickinfo@gmail.com for more information.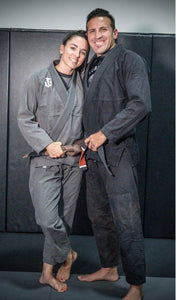 Thomas and Erin Longacre - Owners
Thomas "Thunderkick" Longacre and Erin Longacre practice and teach jiu jitsu under Professor Brandon Quick and are members of the BQuick Jiu Jitsu Affiliation.
Thunderkick Jiu Jitsu & MMA started in Texas in 2010 before moving to the Tulsa area in 2012. Thomas is a Creek County native who began martial arts at a very early age and holds multiple black belts under Master Ted Soliday (GoJu-Ryu) and Dale "Apollo" Cook (Tae Kwon Do) and Brandon Quick(Jiu Jitsu). Thomas fought professionally for over 15 years. He began as a kickboxer before moving into boxing and eventually MMA. 
Erin grew up playing multiple sports and at the collegiate level. This helped forge a strong foundation for her Jiu Jitsu journey. 
In January 2021, Thomas and Erin opened Thunderkick in Sapulpa, Ok; bringing full circle, the story, of where it all began. They have two sweet girls. When you join the Tribe, it's their goal to treat you like family. Just like our girls, we won't waste anytime getting to know you and making sure you're connected for long-term success.